Plan Semi Precast Parts Holistically
Semi precast parts can be planned in STRAKON. These are precast concrete parts such as double walls, solid walls, isowalls or floor slabs.
How Are Semi Precast Parts Planned?
Semi precast parts can be scheduled automatically in STRAKON. A great deal of emphasis was placed on the speed of planning. In this respect, different viewpoints enter, which are both depicted in STRAKON.

When a precast plant receives an order to supply multiple product groups or to participate in a BIM project, the perspective on the overall model is very important. For example, slabs, walls, balconies, stairs, columns, and so on are displayed in a single model. Each employee works in his area, but can see and use all other areas in real time. This means that the individual plans for the entire project are coordinated.
The other view is, for example, only a ceiling job for a precast plant. The overall model may not be of interest here. In this case, it is only important that the reviewers can quickly plan the slabs and enter them into production.
CAD planners use the professional 3D BIM software STRAKON for planning semi precast parts.
Other Applications for the Manufacturing Process of Semi Precast Parts
In addition to the simple planning of the semi precast parts, they can also be stacked in STRAKON. In addition, own pallet occupancy enables production planning. The production control of master computers, lasers, projectors, straightening and cutting systems, mat welding systems, automatic bending machines etc. are also integrated. The export of the data to ERP systems for work preparation and billing are possible to different systems.

Are you interested in planning semi precast parts with our CAD software STRAKON?
Find out More
Professionally Plan Semi Precast Parts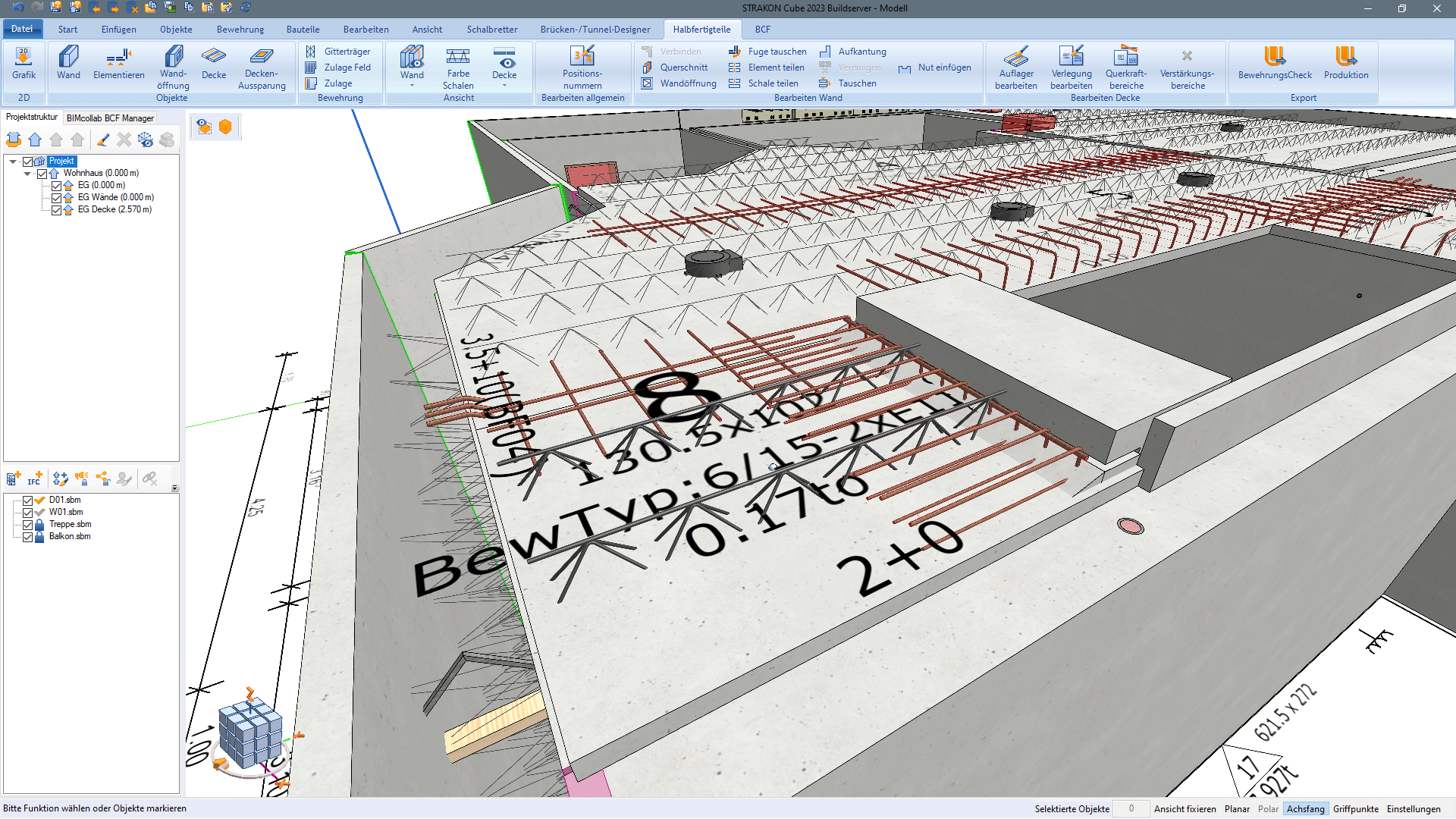 Applications and Solutions with STRAKON