Trend – Automation in the Structural Precast Plant
The precast plants of the semi-precast industry (double wall, slab in elements...) have been leading the way in automation for decades. In principle, Industry 4.0 has been part of everyday life there for some time.
Structural precast plants have been following suit for some time. For a long time, the complexity of structural precast elements was seen as an obstacle to more automation. Due to a shortage of skilled workers, further developments by machine manufacturers and pressure to innovate in the structural plants themselves, more and more structural plants are being equipped with machines and systems.
If a structural precast plant invests in automation, the contribution margin for the respective product group can be increased. If some plants then pass this advantage on to the market via the price, the plants that have not automated will lose out. Even more so, if at some point supply exceeds demand, it will be enormously important to produce cost-effectively. For this reason, it is advisable to check now, in good times, in one's own plant whether automation would make sense.
Which areas are currently automated in structural precast plants?
Automatic bending machines are already old hat in structural precast plants and have been widely used for many years. Mesh welding systems, on the other hand, are rather the exception. Here, a first trend can be recognized in which mesh welding systems map complete individual reinforcement situations and then the mesh cages, for example in sandwich wall or balcony formwork, are simply inserted by crane. The reinforcement itself is drawn three-dimensionally in CAD and conveniently transferred to the machine at the push of a button via an interface.

Even the topic of circulation plant, standard for semi precast parts, occurs more frequently here and there in structural plants for solid, sandwich walls and other components. Data is provided directly from CAD via Unitechnik, PXML or IFC4precast format at the push of a button and further processed in master computers or ERP systems. Of course, it should be taken into account that the result is not only to let the indexing tables run in Circles, but that the plant is utilized to such an extent that personnel hours are really saved compared to stationary production. We have already mentioned the shortage of skilled workers.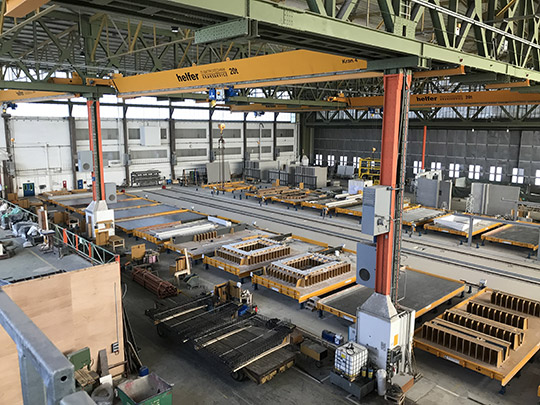 The use of ceiling lasers is also being considered more often in structural plants. This is intended to assist employees in the exact positioning of the formwork and embedded parts. There is a wealth of experience in this area.
The acquisition of a 5-axis CNC milling machine for formwork construction promises great savings potential. Here, formwork boards that have been automatically drawn in three dimensions in CAD are transferred to a machine software at the push of a button. There, the offcut is optimized via nesting and the milling machine starts working independently.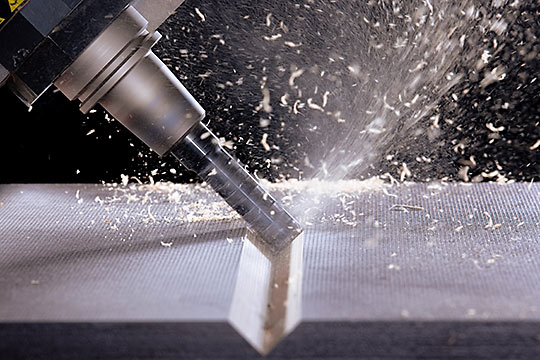 Particularly with more complex components such as balconies, where many areas do not meet orthogonally, automated CAD planning, in conjunction with automated formwork board production, is a turbo in terms of man-hours. The substructures of the formwork construction can also be planned and manufactured automatically via this.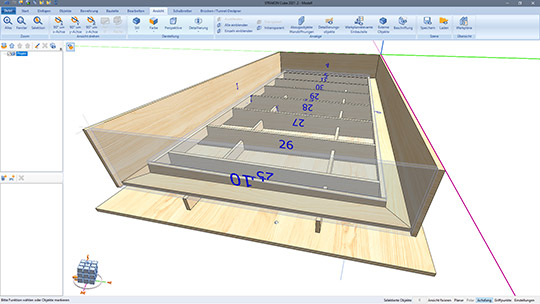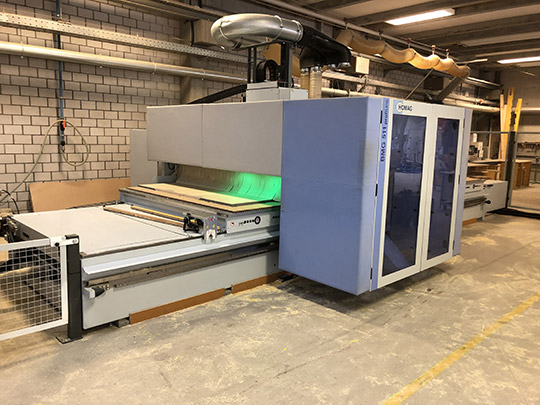 Last but not least, the information processes in the structural plants are also becoming more and more automated. The linchpin is more and more the ERP system, which is adapted to the needs of the industry. Also the control of the production is more and more left to the ERP. The CAD system is the main supplier of valuable data. This starts with quotation costing, where the CAD can supply the dimensions and parts to the ERP with fast 3D quotation planning. It continues with work preparation, which receives an enormous amount from the 3D/BIM model from the CAD. In addition to the components themselves, this also includes the overview model with all data regarding items, surfaces, masses, part styles, materials, embedded parts and much more. Thanks to this graphical and data support, because the 3D model is available in the ERP graphically and with all data, the work preparation can quickly carry out the planning and merchandise management. The work preparation really saves time and there are no transmission errors. For invoicing, all data from the CAD is used again and processed automatically without transmission errors. ERP and CAD not only communicate in one direction, but also exchange data regularly in the background. This means that every employee in the company can always access all data in his or her preferred system. Manual data transfer should be a thing of the past these days.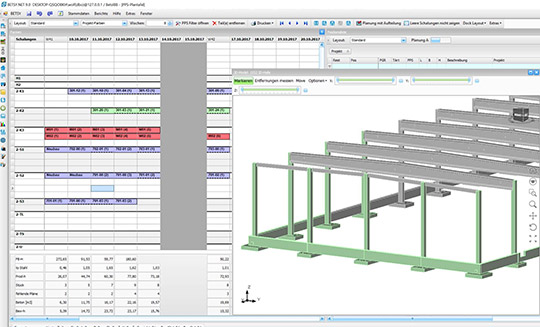 In conclusion, structural precast plants that are currently exploring and acting on their automation options are investing in their own future and competitiveness. In many plants, the same pattern was followed for a long time, which should at least be reconsidered now.

Mike Richter

DICAD Systeme GmbH
Are you interested?
Let us advise you and find out what special advantages our software can offer you.
Presentation
Have DICAD products demonstrated via the Internet without obligation.
STRAKON Application Areas
More about CAD for Prefabricated Construction
Experience STRAKON in Action
Videos in the DICAD Media Library
Why STRAKON from DICAD for structural engineers?
Prefabricated Construction