New Design Software for Semi Precast Parts such as Double Walls and Floor Slabs from DICAD
How can one imagine the most modern automated planning of semi precast parts today? The answer now comes from DICAD.
Together with the subsidiary bauBIT Software & Service GmbH from Austria, which has decades of knowledge in the field of automated planning of semi precast parts, DICAD developed "STRAKON HFT" for the semi-finished parts industry on the basis of the new cube technology.

STRAKON has become the leading BIM structural CAD system in the industry in recent years due to the new developments, on the specially developed 3D/BIM computing core "STRAKON Cube". STRAKON supports 2D/3D/BIM planning in the areas of structural engineering, civil engineering, bridge construction, structural precast construction and now also in the automated planning of semi precast parts. Thus, STRAKON is the CAD platform for all tasks of structural design up to architecture for structural engineers.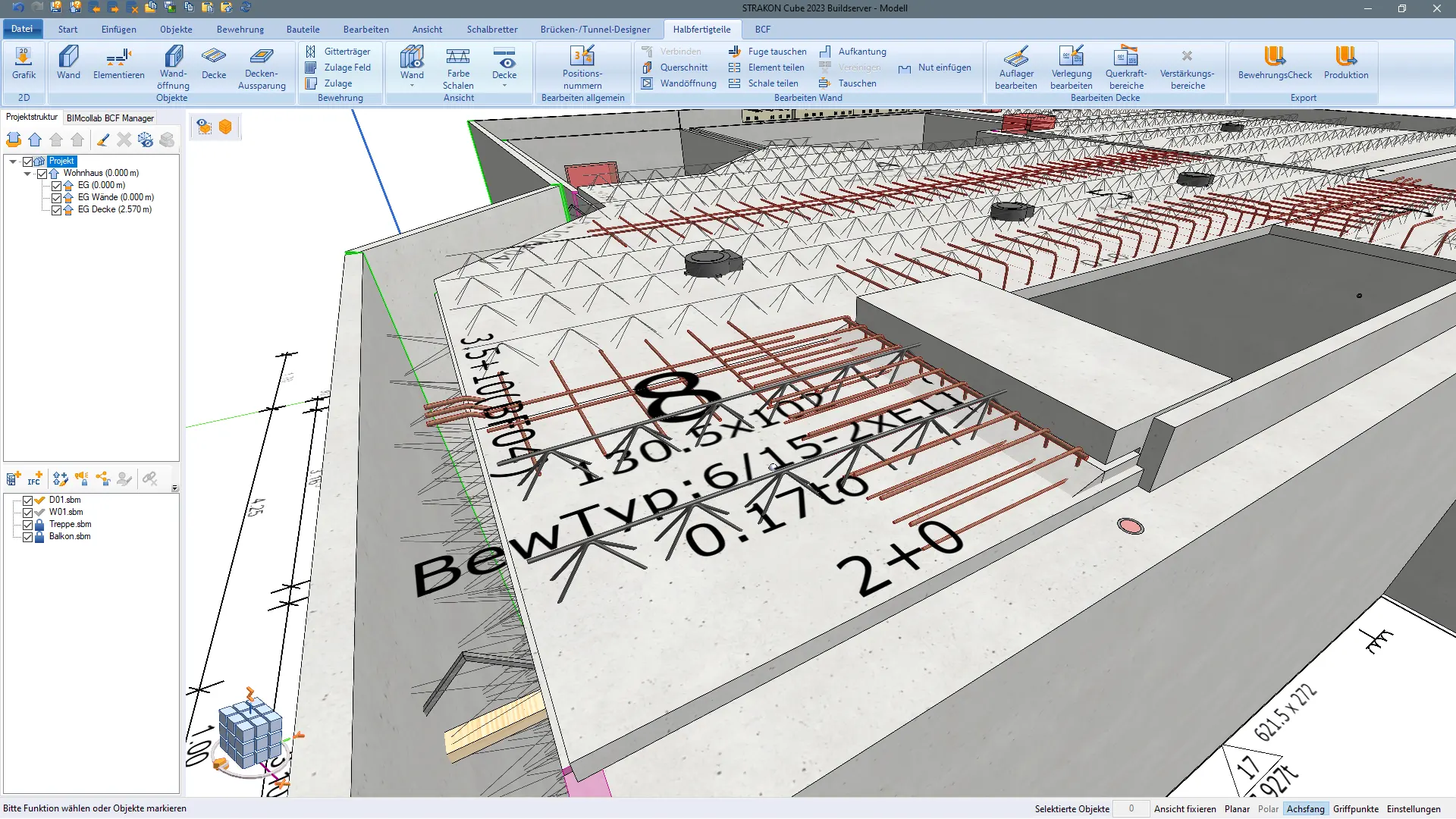 The new semi-finished product solution STRAKON HFT for double walls and hollow walls, solid walls, isowalls and floor slabs have the claim to be very easy to operate and to support a very quick and automated planning. STRAKON can also be completely integrated into a BIM process. Thus, various points of view are optimally fulfilled. If a floor slab plant has the order to deliver some floor slabs, often no 3D model is of interest. Here, the focus is on importing DWG or PDF floor plans or a quick floor plan capture in order to then quickly create the element slabs with all planning documents, including verifications, and digitally transfer them to production.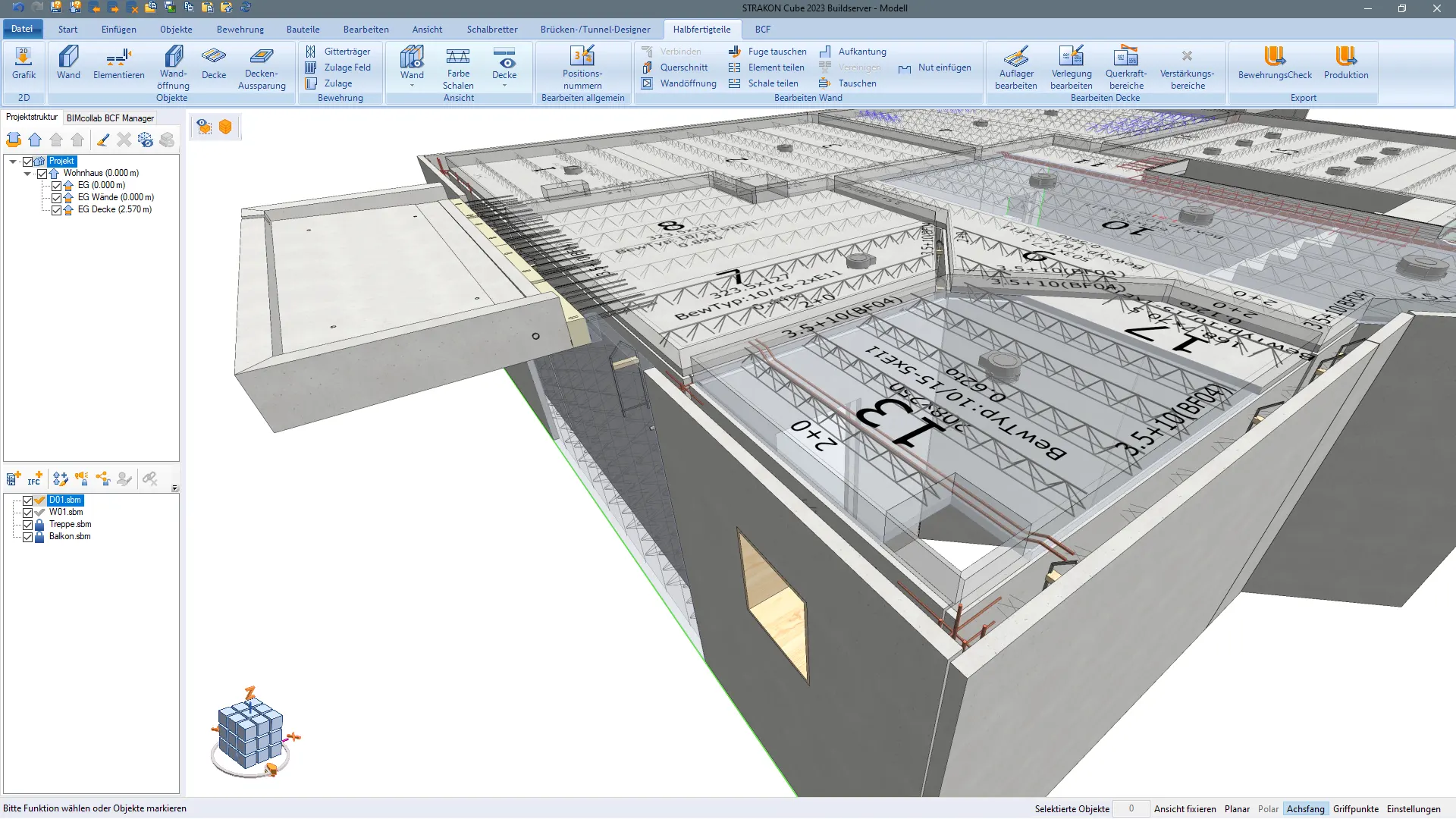 Another perspective would be if a precast plant receives an order for several product groups, such as walls, slabs, stairs and balconies. Here it makes sense to think of the project as a whole and edit everything in one model within STRAKON. In doing so, each employee can concentrate on his or her work and hide the other work. Only if, for example, a wall planner fades in the work of his colleague who is planning the balconies, he can see exactly where the outer shell of the double wall has to be lowered. A similar example would have the ceiling planner interacting with the stair planner. Furthermore, a client could send the project 3D via IFC. Then it would be possible to convert the walls from IFC to double walls immediately. Of course, it would also be possible to adjust the walls from the IFC in advance. STRAKON HFT covers the entire process chain, from planning to stacking, pallet assignment as well as production control.
The new solution for semi precast parts STRAKON HFT will be presented to all interested prefabrication plants and planners free of charge in a live demonstration via the Internet to experience for yourself how simple and modern this new software is. First plants have already switched to this innovative and practical solution.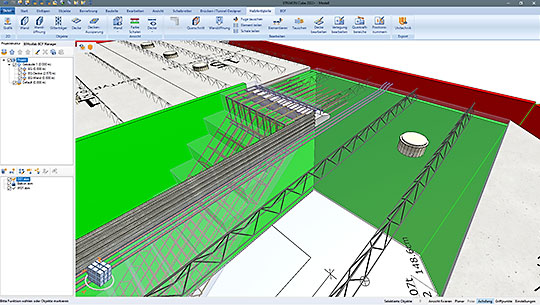 DICAD is setting a new standard in structural design. Interest aroused? Then let us show you the simple and fast solution of your tasks in STRAKON live via online presentation. Arrange an appointment with us now!
Are you interested?
Let us advise you and find out what special advantages our software can offer you.
Presentation
Have DICAD products demonstrated via the Internet without obligation.
STRAKON Application Areas
More about CAD for Prefabricated Construction
Experience STRAKON in Action
Videos in the DICAD Media Library
Why STRAKON from DICAD for structural engineers?
Prefabricated Construction